National Werkshops - ONE DAY INTENSIVE STUDY
July 14, 2018 (Ages 9 & up)
Cost: $100.00
This comprehensive workshop features enrichment training for the dancer who would like to concentrate on one form of dance for two entire days. The workshops run concurrently so students must choose one Intensive from the following:
The Art of Ballet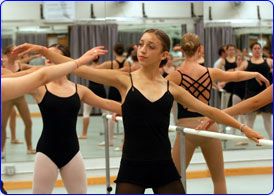 Technique classes in:
Classical Ballet
Contemporary Ballet
Partnering Skills
Historical Choreography from the Great Ballets
Dancers will focus on jumps, turns, strength training and stretching. Classes are designed to build core strength, increase stamina, and work on the architecture of the dancer's frame to better execute demanding technique.
Learn More About Our: