National Werkshops - 4 Day Main Werkshop
July 15 (PM start) through July 19, 2018 (Ages 9 & up)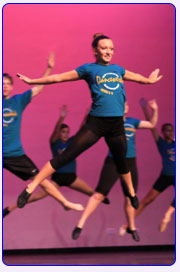 Designed and directed by Ellen Werksman, artistic director of Dancewerks, this four-day intensive ensures the highest quality of dance instruction. Emphasis is placed on a caring, nurturing environment with special attention paid to the physical well being of the dancers.
Technique classes are offered in:
Ballet
Jazz
Modern
Hip Hop
Lyrical
Choreography
Incoming students will be evaluated for correct class placement and assigned to a level based on technique, skill, and age. Levels include Youth/ Junior/Intermediate/Advanced/ Semi-Professional (Ages 17 & up).
The week of camp includes fun activities like a pizza party, a "So You Think You Know Dance," trivia contest, and more! Additional activities can be custom-designed with our Activity Director. See Activity Information page for details.
Cost: $475
Includes:
Complimentary T-Shirt
Some meals and lunches
Out-of-town activity packet
DVD diary of the week (available for purchase)
Learn More About Our:
The Main Werkshop includes the following opportunities!
Enrichment Scholarships
Any dancer that attends the Main Camp is automatically considered for an Enrichment Scholarship to attend another Dancewerks Regional Werkshop or classes at partner dance studios nationwide.
Dancewerks Memorial Scholarship Competition
Over $2,500 in educational dance scholarships will be awarded in competition during the Main Werkshop. Sign up for a chance to compete for a cash scholarship to the dance school of your choice. Only 30 applications are accepted, so
apply now
.
Memorial Scholarship Information
Dancewerks Studio of Distinction:
This Award is given to a hosting Regional Dancewerks Studio. One studio is selected from the Regional tour and presented with this prestigious Award during the National Werkshop. Studio dancers perform at the Performance Showcase.
Dancewerks Student of Distinction:
During the Main Camp a talented student – selected by the Dancewerks staff - will be chosen and receive a special award during the Performance Showcase for their outstanding dedication and talent in the ART of dance. This dancer will also be featured an all promotional material for the upcoming 2015 season.
"BRAVO Dancers" Premiere!
Select dancers who participated in Dancewerks Regional Werkshops have been granted the distinguished award of BRAVO Dancer. These dancers will perform the Opening Choreography for the Performance Showcase at the National Werkshop.
Performance Showcase
The National Werkshop concludes with a Performance Showcase where students perform the choreography and technique they have learned. BRAVO dance performance Studio of Distinction Performance and winning Soloists from the Dancewerks Memorial Scholarship competition included. Parents and friends invited to attend!